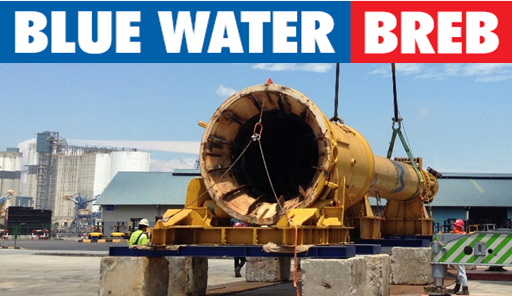 First assignment to Blue Water BREB
In August, Blue Water assisted our client MENCK GmbH with the demobilization of a hydraulic hammer system.
"The project included shipment of four items - a hydraulic hammer, fully mounted, together with accessories, measuring 340 cbm and weighing 190 metric tons – from Singapore via Bremerhaven to Norway. Upon arrival at Bremerhaven, our new joint venture, Blue Water BREB took over next leg of the demobilisation: transshipment from ocean vessel to coaster and further shipment to end destination, the Norwegian offshore base Stord", says Clarence Loh, Business Development Manager in Blue Water Singapore.
After project completion, MENCK GmbH entrusted Blue Water with the return transport of the hammer system from Norway to Hamburg, Germany.
MENCK GmbH is a German specialist offshore engineering company providing specialised hydraulic pile-driving solutions to the offshore, oil & gas, wind, bridge and harbour industries worldwide. MENCK
GmbH has afterward expressed their satisfaction with Blue Water's performance.
"This shipment perfectly shows the fruitful cooperation between Blue Water and MENCK on a global basis. Due to the excellent performance from Blue Water, we have been able to deliver our equipment in time to our client, despite a narrow time frame for everybody", says Thorsten Kock, Senior Logistics Manager, MENCK GmbH.
source: Blue Water Shipping