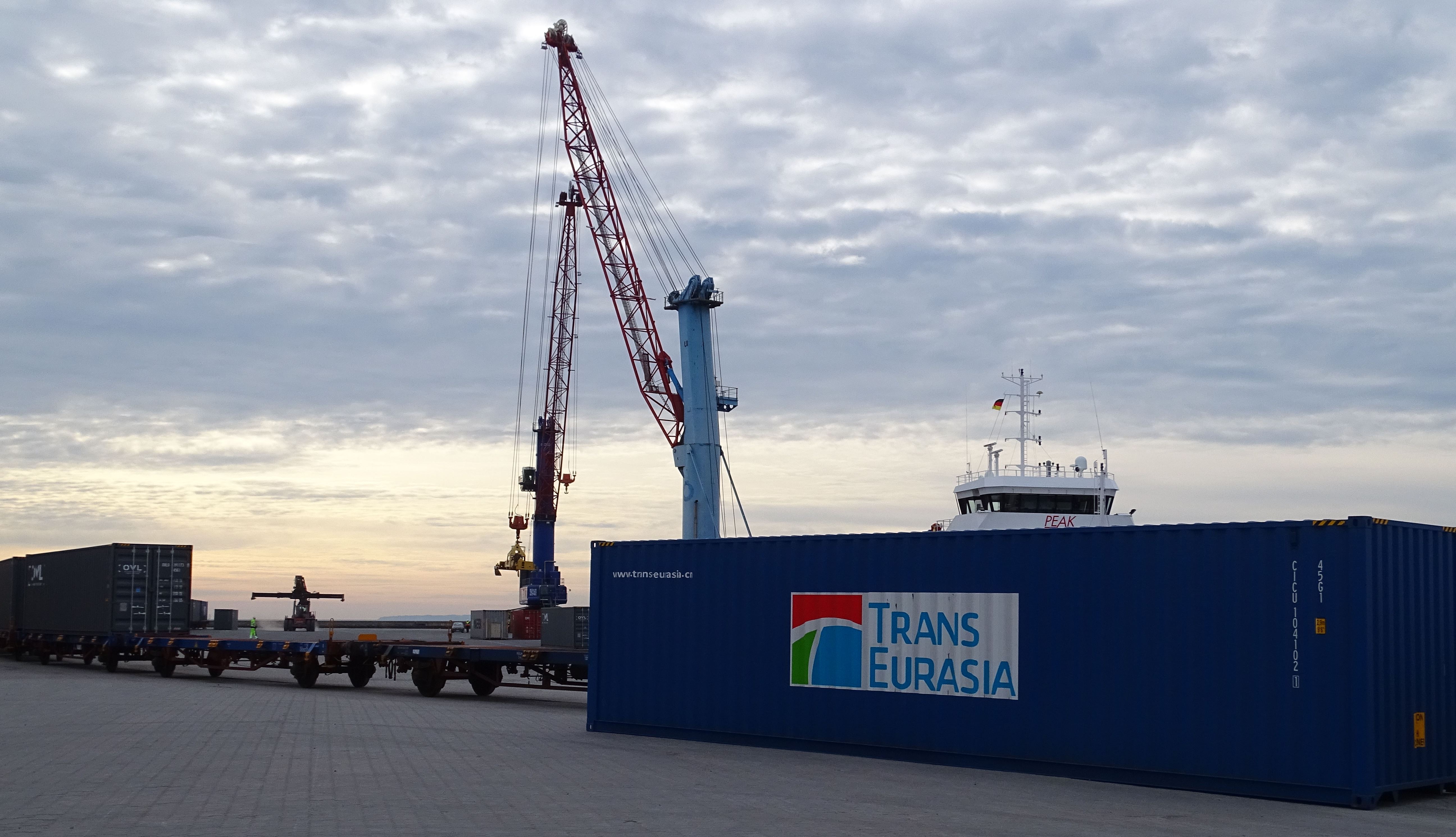 Cuxhaven, 06.05.2020.
Das Cuxhavener Unternehmen BREB GmbH & Co. KG bedient als erste Reederei weltweit eine in die CIM-Liste für Bahntransporte eingetragene und nun regelmäßig angebotene Containerlinie zwischen Sassnitz/Mukran und Baltijsk. BREB war bereits zuvor als Hafenagentur in Mukran tätig. Durch das Tochterunternehmen Blue Water BREB werden seit 2014 Fähren und Frachtschiffe klariert.
Bindeglied der Seidenstraße
BREB startet ersten Vollcontainerdienst zwischen Mukran und Baltijsk (Pillau) mit der "SVS VEGA" auf der Basis von bis zu zwei Abfahrten pro Woche in beide Richtungen. Es handelt sich dabei um den weltweit ersten von der OTIF (Zwischenstaatliche Organisation für den internationalen Eisenbahnverkehr) akkreditierten Bahnfährverkehr für eine Containerschiffslinie. Somit kann der gesamte Transportweg vom Ursprung bis zur Enddestination auf einem einzigen Frachtdokument, dem kombinierten Eisenbahnfrachtbrief (CIM/SMGS Consignment Note) transportiert werden. Dies spart vor allem Zeit und bürokratischen Aufwand in der Abwicklung der Ware an den Grenzstellen und ist für chinesische Bahnspediteure aus Subventionsgesichtspunkten von außerordentlicher Bedeutung.
Als "Baltic Sea Bridge" stellt diese neue Containerlinie das Kernstück einer von Mukran Port Terminals GmbH und der chinesisch-deutschen Bahn Operator GmbH initiierten neuen Trasse von Xi'An nach Deutschland dar und ist somit integraler Bestandteil der Neuen Seidenstraße. Mit einer Laufzeit von nur 12 Tagen ist der angebotene Dienst die schnellste Bahnverbindung von China nach Deutschland. Bei Ankunft des russischen Blockzugs in Baltijsk werden die Container umgehend auf die "SVS VEGA" umgeladen. In weniger als 24 Stunden erreicht das Schiff dann Mukran, wo die Container entweder auf Zügen zum Endziel rollen oder auf Lkw verladen werden. Möglich wurde diese einzigartige Logistiklösung durch die enge Verbindung von Mukran Port Terminal und BREB. Seit 2019 ist BREB Mitgesellschafter der Mukran Port Terminals GmbH.
Erfahrene Hafenagentur
Seit 2014 kümmern sich die Mitarbeitenden der BREB in der Niederlassung Sassnitz, um die Klarierung von Schiffen. Dabei werden neben den üblichen Frachtschiffen mit Gütern aller Art und Offshore-Projekten, auch die regelmäßigen Fährverbindungen der Bornholmslinjen (Molslinjen) von Sassnitz/Mukran nach Rønne in Dänemark mit bis zu 500 Abfahrten im Jahr betreut.
Denken in die Zukunft
Im Beisein von Christian Pegel, Minister für Energie, Infrastruktur und Digitalisierung in Mecklenburg-Vorpommern, wurden bereits während des 9. "Mukran Port – The Annual Summit" im Mai 2019 die Weichen für eine erfolgreiche Zusammenarbeit gestellt. BREB und Mukran Port unterzeichneten einen langfristigen Hafenvertrag. Mit der BREB Continental Line verbindet BREB von der Ostsee aus Häfen in der Nordsee, auf der iberischen Halbinsel sowie im Mittelmeer bzw. der Adria. Mit der Unterzeichnung wurde die ver-tragliche Basis für die Eingliederung Mukrans in das Liniendienstnetzwerk der Reederei gelegt.
(EN)
BREB believes in the successful cooperation with Mukran Ports
BREB GmbH & Co. KG, located in Cuxhaven/Germany, is the first shipping company in the world to serve a container line between Sassnitz / Mukran and Baltijsk that is registered in the CIM list for rail transport and which is now regularly offered. Before this BREB already worked as port agency in Mukran. The subsidiary Blue Water BREB has been clearing ferries and cargo ships since 2014.
Silk Road Link
BREB starts the first full container service between Mukran and Baltijsk (Pillau) with the "SVS VEGA" on the basis of up to two departures per week in both directions. It is the world's first rail ferry service accredited by OTIF (Intergovernmental Organization for International Carriage by Rail) for a container shipping line. This means that the entire transport route from origin to final destination can be transported on a single freight document, the combined rail waybill (CIM / SMGS Consignment Note). Above all, this saves time and bureaucratic effort in processing the goods at the border points and is of extraordinary importance for Chinese rail freight forwarders in regards to subsidies.
As the "Baltic Sea Bridge", this new container line represents the centrepiece of a new route from Xi'An to Germany initiated by Mukran Port Terminals GmbH and the Chinese-German Bahn Operator GmbH and is therefore an integral part of the New Silk Road. With a runtime of only 12 days, the service offered is the fastest rail connection from China to Germany. When the Russian block train arrives in Baltijsk, the containers are immediately transferred to the "SVS VEGA". The vessel then reaches Mukran in less than 24 hours, where the containers either roll on trains to their final destination or are loaded onto trucks. This unique logistics solution was made possible by the close connection between the Mukran Port Terminal and BREB. BREB has been a partner in Mukran Port Terminals GmbH since 2019.
Experienced Port Agency
Since 2014, BREB employees in the Sassnitz branch have been taking care of the clarification of vessels. In addition to the usual cargo ships with goods of all kinds and offshore pro-jects, the regular ferry connections of the Bornholmslinjen (Molslinjen) from Sassnitz / Mukran to Rønne in Denmark, with up-to 500 departures per year, are also handled by BREB.
Thinking about the future
In the presence of Christian Pegel, minister for energy, infrastructure and digitalization in Mecklenburg-West Pomerania, the course for a successful cooperation was already set dur-ing the 9th "Mukran Port - The Annual Summit" in May 2019. BREB and Mukran Port signed a long-term port contract. With the BREB Continental Line, BREB connects ports in the North Sea, on the Iberian Peninsula, the Mediterranean Sea and the Adriatic Sea from the Baltic Sea. With the signing, the contractual basis for the integration of Mukran into the liner service network of the shipping company was laid.
Blog
Press Release