New mobile harbour crane for the Blue Water BREB Terminal in Cuxhaven
This week the LHM 600 arrived at its new home, the German Offshore Industrial Center (DOIZ).
The Cuxhaven terminal operator Blue Water BREB is investing almost five million euros in the LHM 600 from the Rostock company Liebherr. Partner in the financing is the local house bank Stadtsparkasse Cuxhaven. On Friday, February 12th, 2021, the approximately 600-tonne mobile crane was loaded onto the "Emsponton 7" by the manufacturer and taken on the hook by the two tugs "EMS PULL" and "EMS TUG" of the shipping company Ems Offshore Services from Leer.
All participants involved were very happy when the crane was driven from the floating pontoon to the heavy-duty ramp at berth 9.3 one hour before high tide. The tug WULF 5 of the Cuxhaven shipping company Taucher Otto Wulf assisted with the precise unloading. In addition to drivers and specialist staff from the manufacturer Liebherr, the equipment and staff from the buyer Blue Water BREB were in action. The demanding operation was accompanied by the expert Hanse Survey from Emden and Captain Frank Scharbatke from Port Captain Services, Bremen. Contemporaneous to the unloading, various preparations for final assembly and commissioning as well as training for the terminal staff were carried out on land.
Five years after the German-Danish handling company was founded by the German BREB GmbH & Co.KG and the Danish Blue Water Shipping, the investment in their own mobile crane had made sense from an economic point of view. Both the constant number of 3,000 components annually for the wind energy industry and the use of ever larger ship tonnage by customers, together with the positive development in the on- and offshore energy sector at the Cuxhaven location, were crucial for the purchase decision.
Negotiations with Liebherr were concluded in September 2020 as part of the annual Smørrebrød event of Blue Water BREB GmbH. The crane then went into production and was specially modified for handling wind power components. The hook load on the rope of just under 208t and a extension of up to 58 meters offer high flexibility and are indispensable for the increasingly larger and heavier wind turbines.
"The port of Cuxhaven is now becoming even more attractive for international project shipping," says Arne Ehlers, Managing Director of Blue Water BREB, with conviction.
Due to the coronavirus, the official inauguration ceremony of the mobile crane will be rescheduled for a later date. The matching logo for the crane, which is already affectionately known in the harbor as "Big Bob", was created by the Cuxhaven artist Jim Albrand.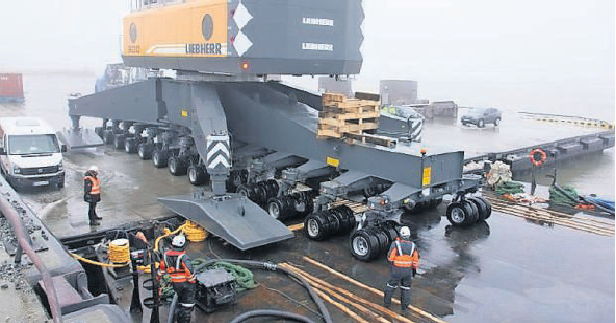 Blog
Press Release