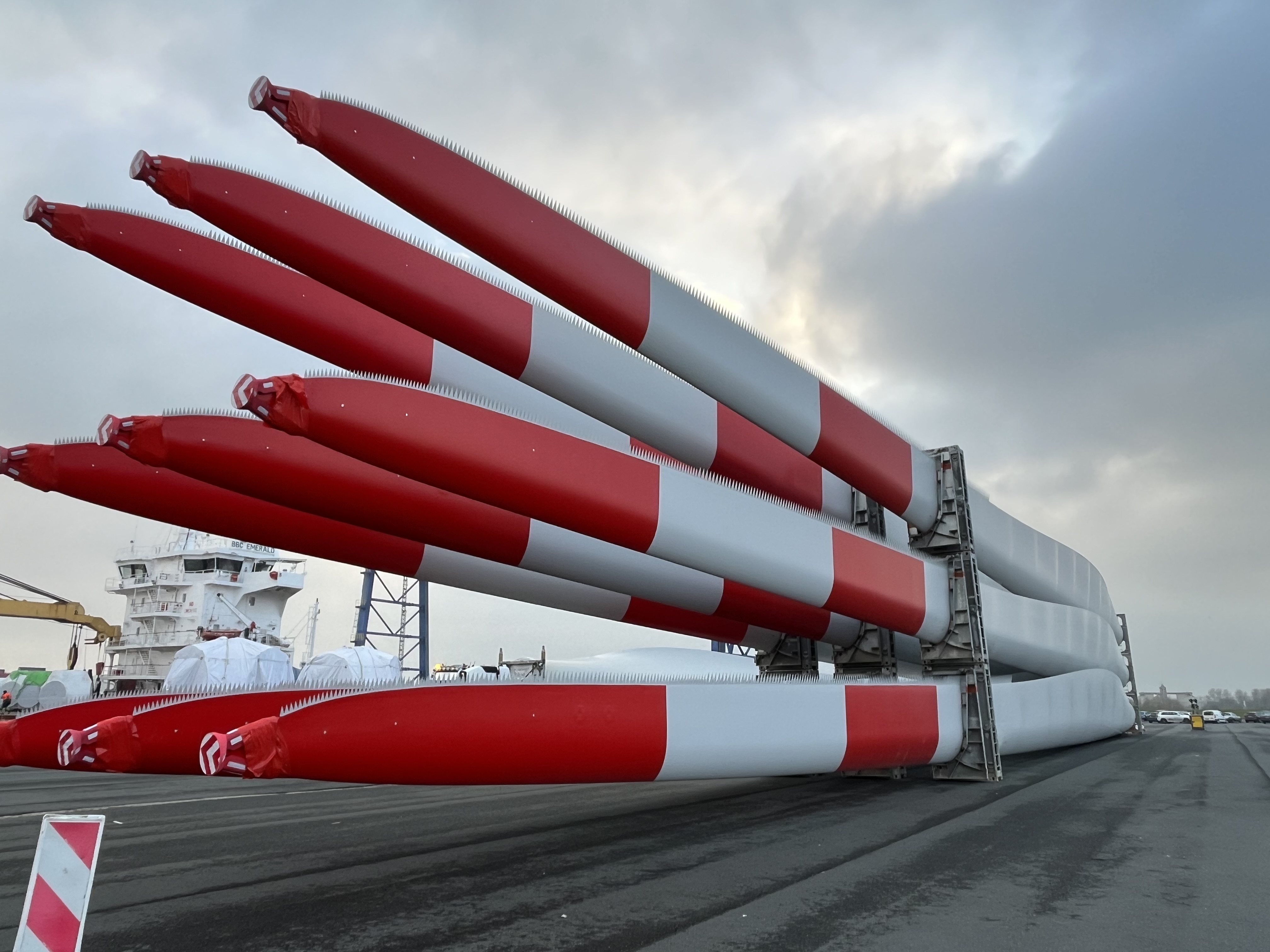 VESTAS signs 5-year contract with Blue Water
Contract concluded between Blue Water Shipping / Blue Water BREB and Vestas for the handling of Wind Energy Components
Blue Water has already been active in the wind energy sector worldwide since the 1990s. The same applies to the German partner BREB, which has been active in the wind industry as a shipping company and port agent since the construction of the first German wind farm Alpha Ventus. Blue Water Shipping and BREB founded Blue Water BREB GmbH in 2016 in equal parts with the aim of serving onshore and offshore wind energy customers in Germany. Based on a long-standing and cooperative partnership, Vestas and Blue Water now concluded another 5-year contract for the handling of wind components at the Esbjerg and Cuxhaven terminals.
Vestas and Blue Water have worked closely together globally for many years: However, this contract marks a milestone in terms of the scope and depth of the cooperation between the companies. The agreement includes, among other things, terminal handling of heavy wind turbine components, port stevedoring, storage and service for a period of five years for all Vestas components handled through the ports of Esbjerg and Cuxhaven.
"We are very proud of this vote of confidence from Vestas, who have entrusted us with this important task. Blue Water has been with us since the early days of the wind industry. Our colleagues in the ports and terminals have the most extensive experience and are well prepared to handle the tasks safely and efficiently, making a massive contribution to the energy transition," comments Brian Sørensen, Global Category Head, Wind and Port Service, Blue Water Shipping, Esbjerg.
Cuxhaven with a key role for the energy turnaround in Germany
Since its foundation, Blue Water BREB has played a key role in developing the port of Cuxhaven into Germany's largest wind energy terminal. Located directly on the North Sea and in the immediate vicinity of the Kiel Canal, the port has optimal transport links to the motorway and rail network.
"With 10,500 MW of turbine capacity handled since 2017, the port of Cuxhaven has impressively demonstrated its capabilities," said Capt. Arne Ehlers, Managing Director of Blue Water BREB GmbH.
The location in the middle of the German Offshore Industry Centre (DOIZ) has become the second largest hub in Europe for components for the onshore and offshore wind industry. More than 3,500 rotor blades, tower segments, turbines and other wind energy components are handled here every year. Many of these come from the Far East with large overseas ships, for example from China and India, which are up to 240 metres long and up to 40 metres wide. Blue Water BREB is accompanying this extremely rapid development with high investments in port cranes, handling equipment and personnel.